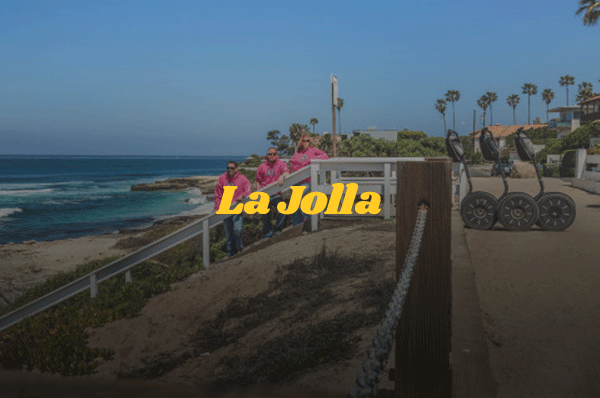 $69 – 2 HRS /

La Jolla Segway Tour
Get the experience of a lifetime during our La Jolla Segway tour. This tour package includes La Jolla Cove, La Jolla Village (a.k.a., La Jolla Prospect or Downtown La Jolla), La Jolla Homes, Legendary Surf Spots and Beaches, and more! We'll teach you how to ride a Segway as we show you all the highlights of this beautiful city during your 2-hour tour.
La Jolla, California, a northern suburb of San Diego, is an affluent and richly preserved culture with an integral history of its own right, and the unique La Jolla Segway Tour that We Love Tourists provides showcases just that. As one of the most beautiful places in America's Finest City, you'll want to capture some photographs.
While you sail through the steep and wondrous hills right by the picturesque Pacific Ocean, you'll learn how this beautiful area has become one of San Diego's most popular tourist destinations. you'll gain knowledge of the beautiful architecture, the popular downtown shopping district of La Jolla Prospect, where Dr. Seuss gained inspiration for his books, and the historic and current beauty of La Jolla Shores. Additionally, during the Segway tour in La Jolla, you'll learn interesting facts regarding natural California sea creatures, such as what wildlife lies right on and off our shores, see first-hand the difference between a seal and a sea lion, and learn the history of the Children's Pool, as you roll right up to the edge of the ocean and experience it for yourself. See the first established buildings in La Jolla and how they are standing now, and so much more – and do so all while having the undeniably relaxing smell of a beautiful sunny ocean day before you. What better way to experience La Jolla than with We Love Tourists? Our friendly tour guides are here to ensure you have the best experience possible. Reserve your spot for our next Segway tour in La Jolla below!
Our electric bikes feature chunky 26 x 4.9 inch tires that combine with the front fork suspension to create a soft ride allowing you float down the road. 17.5" one size fits most frame with 36V 12.8 Ah lithium-ion battery and 350W motor weighing in at a total of 55 lbs. All of our bikes have an LCD screen for five speed electronic pedal assist allowing you to pedal as hard or as easy as you like!
Our Segway i2 will have you gliding around San Diego and La Jolla feeling like a kid! Our tours have all different terrain from hills to flat wide walkways. Routes have be created to avoid crowds while still taking you to all the places you want to see in San Diego.
How early should I call for a reservation?

Call as quickly as you can 619-512-3491! Holiday weekends book the earliest in advance. We typically have good availability for weekday tours. Call us as soon as you know your ideal tour dates so that we can work with you to get you booked!

What are the age/weight limits?

For Segway Tours 14 years old, but more importantly Segways need riders between 95-280 pounds to succesfully register them on the footpads. No upper age-limit, but you want to be sure you're comfortable standing for 2 hours. No limits for walking or towncar tours.

I bought a discounted pre-paid voucher (e.g., Groupon, Living Social, etc) but it has expired. Is there anything you can do?

Yes! For only an extra $20, you can take any of our Segway tours, even if the difference between $149 and your voucher-value is much greater. We want to be able to share our tours with everyone and still share great deals.

Shoes

Flat (no rocking shape-ups) shoes you're comfortable in for duration of tour work great! Flip-flops, sandals, running shoes are all good

Tips

Price of tour does not include a tip; sharing tours is a service business and our guides very much appreciate gratuity, thanks!

Things to pack

We provide a bottle of water, and definitely recommend bringing a warm layer. It might get chilly in the shade and we'll be rolling pretty quick at 12mph

Cancellations

Email tours@WeLoveTourists.com 48 hours prior to your tour to re-schedule
Tours are subject to cancellation due to weather and will be rescheduled based on availability

Are Segways hard to ride?

Nope! Most people become super comfortable after about 5 minutes of training and 5 minutes gliding around on your own!

Do you have to wear a helmet?

Helmets are mandatory and provided free of charge. All Guests have to wear a helmet. Even though it's extremely unlikely that you take a spill, we can't control everything in our environment (other people…)

Do you offer any Specialty Tours?

Call us 619-512-3491, even if not for a booking we love talking about our tours

Can you cater to special needs?

Give us a call or email, and we're happy to accommodate whatever we can

What's special about your tours?

Read about each tour to find out more, but there's a lot we don't advertise. Special picture spots, surprises, lots of inside info. Best bet is to call us and chat or send us an email to find out more, or take the leap and book a tour, if you don't have fun we insist on not accepting your money!
Location

7430.5 Girard Ave. La Jolla, CA 92037 (we are the Grass Patch/Shed between the Art Studio and Gym)

Restrooms

Please be aware that there are no restrooms on site. There are two stops where you will be able to use public restrooms, if needed

Parking

2 hour parking on Girard Ave. is enforced from 8am – 6pm (Sundays & certain holidays excluded). Be cautious parking here as it will be cutting it close, but generally ok as long as there's not a Parking Enforcement Officer within eyesight.
There is non-metered, residential parking south of Pearl both on Fay and Eads (both west of Girard) that would be a 1-3 block walk. As always, please call us if you have any questions about parking or anything at all 619-512-3491
Don't park in the Vons parking lot. They will tow you