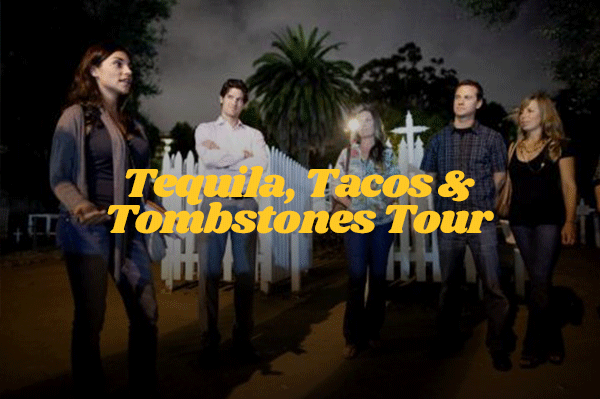 $60 /

Tequila, Tacos and Tombstones Tour
Taste the Flavors of California's First Town!
Old Town is known as the "Birthplace of California"
Learn about the early Spanish missionaries
Eat some amazing Mexican food at 4 local restaurants
Enjoy haunted tales, mariachi music, lots of food, and fun!
Get your Fiesta on!
Tequila, Tacos, and Tombstones combines food and history into a one of a kind, unforgettable experience. Travel back in time with us as we explore the Birthplace of California and the events and people who have transformed Old Town San Diego into the cultural destination it is today. Come with us on one of the most in-depth tours of Old Town as your knowledgeable tour guide takes you on a journey through the historical eras, from the early Spanish settlements to the establishment of Mexican Independence to the California Gold Rush. Join us for a night of authentic food tastings, traditional cocktail samplings, and fun!TEQUILA
With deep roots in the Mexican culture, Old Town San Diego is not only bursting with cultural flare, but plenty of tequila to whet your appetite! While this is not a tequila tasting tour and we won't be consuming shots, we will be sampling a few tasty customary cocktails during our Old Town tour.
TACOS
What's an Old Town food tour without some good eats? Sample some authentic Mexican cuisine from a few of our favorite Old Town restaurants, including one voted Best Mexican Restaurant for over 7 years! Not only will you satisfy your craving for tantalizing tacos, but you will also experience the flavors of a homemade tortilla made right in front of your eyes. The food on this tour is enough to make a full meal for most people, so come hungry.
TOMBSTONES
Old Town didn't survive hundreds of years of history without adding a few ghost stories to its name. This Old Town tour takes you to one of the oldest graveyards in San Diego where you will find out why the past still haunts the present. Stop by the Whaley House, named America's Most Haunted House by the Travel Channel, and possibly encounter one of the ghostly spirits whom still frequent this historic home.
Join us for a unique Old Town food tour where culture and cuisine come together as one to take you back in time!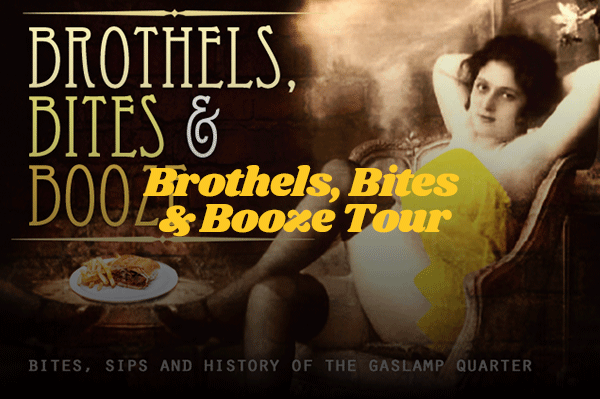 $60 /

Brothels, Bites and Booze Tour
A walking history tour of San Diego's thriving New Town
Indulge your senses and taste original flavors from favorite restaurants.
Listen to stories about the scandals of the Stingaree District.
Learn some of the history that they don't teach you in a classroom!
Enjoy enough delicious food for a full meal.
Brothels, Bites, and Booze is a fun and innovative tour that lets you explore the Gaslamp Quarter, the heart of America's finest city. Experience what makes this city one of the top destinations for dining, shopping, and nightlife. Learn the secrets behind the district's historic buildings as you to travel back in time to the post-Gold Rush era as thousands arrived in the port town of San Diego. This popular Gaslamp Quarter food tour will not only satisfy your taste buds, but your curiosity, too!
BROTHELS
Your guide will provide an in-depth look at the infamous red light district of San Diego and the women who ruled the streets at the time. See what drew them to this lifestyle and the price they paid to be amongst the few financially independent women of the time. Scandalous tales of the most popular brothels and Prohibition-era gangsters will have you thirsty for more!
BITES
Satisfy your hunger during our Gaslamp Quarter walking tour as we make stops to four popular restaurants in the area. Cuisine from all over the world comes together to create a tasting experience that is unlike any other. The food on this tour is enough to provide a full meal for most people, so bring your appetite!
BOOZE
The perfect complement to a delicious sampling of food is drinks to wash it down. The Gaslamp Quarter is home to an endless amount of unique craft cocktail bars and some of the top microbreweries in the country. Finish off your Gaslamp Quarter food tour with a sample-sized brew, cocktail, or other intoxicating treat for the full San Diego experience.
Join us for a night of delicious food tastings, drink samplings, and good times!
WHERE TO MEET:
The tour meets at the Gaslamp Quarter Sign at the post nearest the Hard Rock Hotel.
Map it HERE
LIST OF RESTAURANTS:
Ciro's Pizzeria: The original Ciro's Pizzeria opened in January of 2003 in the Historic Gaslamp Quarter. They use nothing but the freshest ingredients and take pride in making their lasagna, buffalo wings, cheesesteak, dough, pizza sauce, marinara sauce and other pasta dishes homemade daily. Ciro's vision is to provide quality pizza and other italian dishes with their unique style and New York flair.
The Field: This turn of the century irish pub was shipped literally piece by piece from Ireland and relocated in the heart of San Diego's Historic Gaslamp Quarter. The air is filled with the buzz of people engaging in the art of conversation, savoring the homemade food, enjoying the traditional music and of course the clink of glasses as  revelers sample one of their many imported draft beers.
Cute Cakes:  Is a quaint cupcake shop offering our guests specialty cupcakes that will just make anyone feel as though they have died and gone to Heaven after one bite.  From peanut butter chocolate to red velvet to snickerdoodle, and so many more!!  Yum!
Tin Fish:  Sitting in the shadow of Petco Park and steps away from San Diego's historic "Gaslamp District" the Tin Fish is a favorite of locals and tourists alike.  The Tin Fish offers an assortment of fresh grilled and fried plates to satisfy any appetite.
Meze Grill:  Meze Greek Fusion is a trendy Mediterranean restaurant serving up home-made falafel, hummus, and Greek favorites. Their craft cocktails are something to get excited about!
The Quad Alehouse:  Quad boasts an impressive craft brewery list of beer from all around the country, and the quality of dishes are unparalleled to any other gastropub in the area.  Watch a sporting event, or come for the food!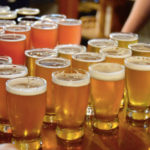 $55 /

 Hipsters Hops-North Park Brewery Tour
Explore 3 local San Diego breweries
Taste 9-12 uniquely crafted beers
Visit a popular taco shop for a grommet taco favorite
Learn about the brewing process and about different types of beers
Explore the artistic culture and history of North Park
North Park was rated 13th best hipster neighborhood by Forbes's Magazine, and rightfully so. The streets of North Park are lined with art boutiques, craft breweries and coffee shops. Even the buildings themselves are decked out in beautiful street art!  The tour will take you on a walk through North Park where you will stop at three local breweries where you will have tasters at each. Your guide will then take you to a modern taco shop that has it's own twist on a popular Mexican past time. The tour is the perfect way to experience a variety of different beers and get up close and personal with the brewing process. You will also learn about how a run down area like North Park blossomed into the trendy place it is today.
BREWERIES
We will take you on a journey to 3 breweries where you'll meet friendly representatives who are delighted to talk to you about the fresh beers they are serving.  Taste beers that will never be bottled, canned, or served anywhere else!  You'll try saisons, ales, stouts, sours, IPAs, browns, red, wheats, and more!  After this tour, you'll definitely leaved buzzed and edumacated about BEER.
HIPSTERS
What is a hipster?  And what's the big deal?  Definition: a person who follows the latest trends and fashions, especially those regarded as being outside the cultural mainstream.  Really, there is no big deal, but we love them because they push the envelope on what's cool. They are known to have unique tastes, introducing the rest of society to crafty concoctions, foods, art, and ways of being.
STREET ART
North Park has been known to be an art mecca in San Diego.  You'll find several galleries throughout the streets and alleyways, as well as specialized boutiques where you can find one-of-a-kind/homegrown gifts and nick-knacks.  The street art decorates everyday life in North Park, and you'll see plenty on this brewery tour.
$30 /

Downtown Scavenger Hunt Walking Tour
Downtown San Diego has a rich and wonderful history. On this one-of-a-kind walking tour, you will learn how downtown came from "New town" to the hustle and bustle of our current day Historic Gaslamp Quarter.